Contact Us & Bank Payment Infomation

UNITE AGAINST COVID 19
We do not wish to put any of our staff at risk and to fully comply with the Covid-19 Alert Level 4 restrictions to have all staff self isolate at home..

As a entitie to supply chain we will be checking and dispatching orders or call out collection orders from our Takanini, Auckland warehouse to other entitie's to the supply chain and "Essential Business" as required only.

During the Level 4 Lockdown please contact us on 027 349 0800 or info@hesnz.co.nz
We will be montoring our online website for orders placed to ensure we can meet Mainfreight and NZ Courier Pickups at 1.00pm daily (Mon-Fri) during this Level 4 lockdown period.

Welcome to our Friendly team at HES NZ Ltd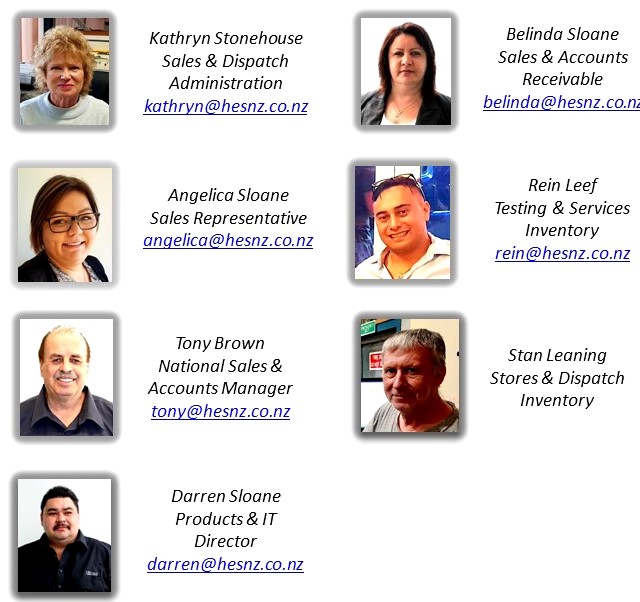 Email:  "info@hesnz.co.nz"  for all inquiries and quotes...
Email:  "accounts@hesnz.co.nz" for all accounts payable..

Physical Address;  
3 Heb Place, Takanini, Auckland 2105, New Zealand

Phone (09) 275 2011, Fax (09) 275 2015

Email:  info@hesnz.co.nz

Google Maps Link: 
https://www.google.co.nz/maps/place/HES+NZ+LTD/@-37.0341717,174.9126124,16z/data=!4m2!3m1!1s0x6d0d4561ef0a001f:0x93aa7c2ff1dae549?hl=en
Postal Address;
Po Box 202245, Southgate Post Centre
Auckland 2246, New Zealand
General Trading Hours: 
Monday to Thursday 8.00am to 4.30pm  (Friday's 8.00am to 4.00pm)

Freighting "CUT OFF" Times to get most orders out...
1.30PM Cut OFF - Truck Orders shipped by Mainfreight.
3.30PM Cut OFF - Overnight orders to main centres shipped by NZ Couriers..
NOTE: If your order is placed after these "Cut Off" times then it will be dispatched the following day...

For Bank Payments

Please show "Account Name" and in Reference the "Invoice Number" on bank transfer.
Bank Payments To:   HES NZ Ltd
Westpac Bank Account No. 03 1506 0483614 000
Bank & Address
Westpac Manukau City Mall Branch
683 Great South Road, Manukau
Auckland 2104, New Zealand
Swift Code: WPACNZ2W    (For International Clients)
Extra Information
HES NZ Ltd Registered Company No. 3611571  (NZBN: 9429030908949

HES NZ Ltd GST No. 107 898 271
We have resellers for some of our products NZ wide including:

HFM Solutions - Whangarei, Contact is Kim, Mobile (021) 542 551
HEC - Christchurch, Contacts are Chris & Matt, Phone (03) 349 0007