Contact Us,  Trading Hours,  Payment Info
Our HES NZ Team...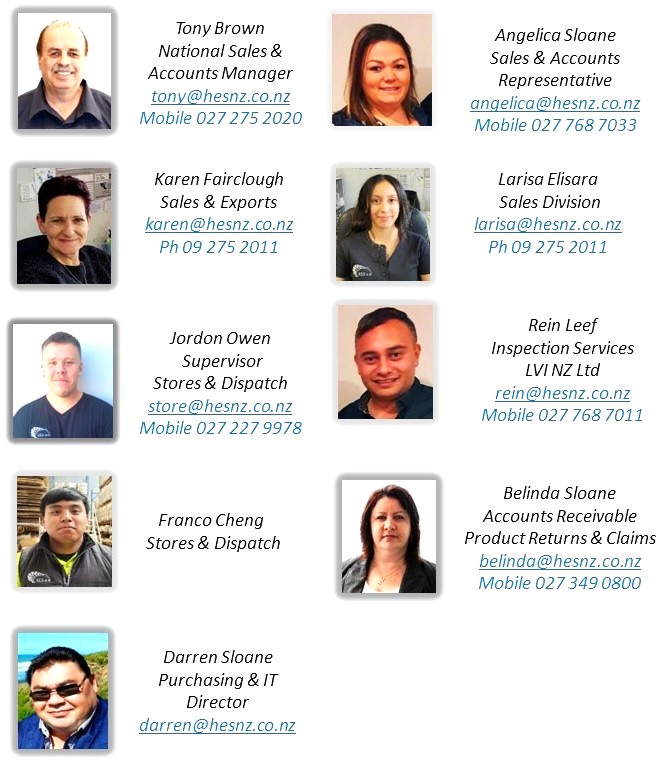 Inquries & Orders Email:  "info@hesnz.co.nz"
Product Inspections Email:  "rein@hesnz.co.nz"

Accounts Receivable Email:  "belinda@hesnz.co.nz"
Accounts Payable to Email:  "accounts@hesnz.co.nz"

Physical Address;  
3 Heb Place, Takanini, Auckland 2105, New Zealand

Phone (09) 275 2011, Fax (09) 275 2015

Email:  info@hesnz.co.nz

Google Maps Link: 
https://www.google.co.nz/maps/place/HES+NZ+LTD/@-37.0341717,174.9126124,16z/data=!4m2!3m1!1s0x6d0d4561ef0a001f:0x93aa7c2ff1dae549?hl=en
Postal Address;
Po Box 202245, Southgate Post Centre
Auckland 2246, New Zealand
General Trading Hours: 
Monday to Thursday 8.00am to 4.30pm  (Friday's 8.00am to 4.00pm)
ORDER - Freighting "CUT OFF" Times to get most orders out...
1.30PM Cut OFF - Truck Orders shipped by Mainstream.
3.00PM Cut OFF - Overnight orders to main centres shipped by NZ Couriers..
NOTE: If your order is placed after these "Cut Off" times then it will likely be dispatched the following day...
Please arrange your own carrier or courier to collect your order if you feel you will get better pricing & delivery...
For Bank Payments

Please show "Account Name" and in Reference the "Invoice Number" on bank transfer.
Bank Payments To:   HES NZ Ltd
Westpac Bank Account No. 03 1506 0483614 000
Bank & Address
Westpac Manukau City Mall Branch
683 Great South Road, Manukau
Auckland 2104, New Zealand
Swift Code: WPACNZ2W    (For International Clients)
Extra Information
HES NZ Ltd Registered Company No. 3611571  (NZBN: 9429030908949

HES NZ Ltd GST No. 107 898 271
Please do not hesitate to contact us for a local company stockist of our brands and products in your area...